Take-away from 18:30 to 21:00.
Order through WhatsApp at phone no. 346 861 43 02
STARTER
IL TAGLIERE DI SALUMI
Plate with cold meat and cheese, with Parma ham 24 months of maturation, Bacon with black pepper, local salami, Coppa PIacentina and PDO cheese, served with mixed pickles and rosemary focaccia
TAGLIERE DI PROSCIUTTO CRUDO DI PARMA
Parma ham 24 months of maturation, served with melon or with soft core buffalo mozzarella PDO from Campania
DEGUSTAZIONE DEL MIGLIOR PROSCIUTTO CRUDO AL MONDO!!!
Tasting of 100% Iberian Patanegra, persistent aroma, over 36 months seasoning in Salamanca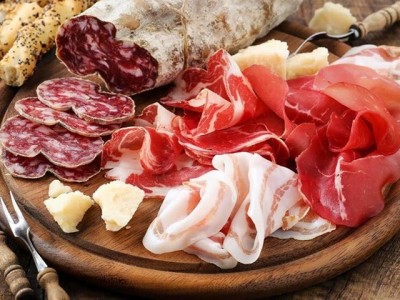 TARTARE AND CARPACCI
Tartare di ANGUS
ANGUS tartare, knife-beaten, 30 days of maturation, with egg, onions, ancient mustard, Worcester sauce
Tartare di BISONTE SELVAGGIO
Knife-beaten WILD BISON tartare with ancient mustard, red onions, pickles, oil, pepper and salt
Carpaccio di Wagyu KOBE OZAKY
Wagyu KOBE OZAKY carpaccio with oil, pink pepper and Himalayan pink salt
Carpaccio di BISONTE SELVAGGIO
WILD BISON carpaccio with pickled onions, cucumbers and capers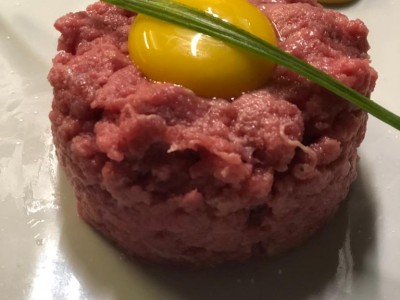 PASTA
SPAGHETTI ALLA CARBONARA
with egg, pork cheek, Grana Padano and ewe's cheese
PACCHERI AI FRUTTI DI MARE
Paccheri with sea food, king prawns and scampis
GRILLS
FILETTI DRY AGED
Dry aged tenderloin 30/60 days of maturation, depending on availability - for min. 2 pax
FILETTO DI SCOTTONA
Beef tenderloin of Scottona 30 days of maturation, seared on the grill
may be served with
wild mushrooms
or
pepper sauce
GRIGLIATA DI CARNE
Grilled meat plate with pork chops and sausage, chicken legs, BBQ pork steak, served on a hot plate with wedge potatoes
GRIGLIATA DI PESCE DI MARE E CROSTACEI
Grilled fish plate with sea food and crustaceans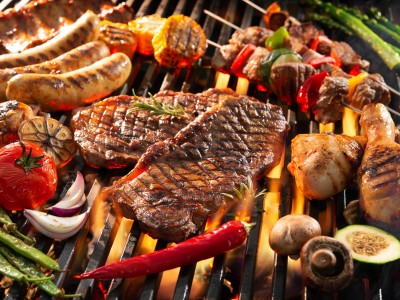 GRILL EXCELLENCE - TENDERLOIN OF ALL BREEDS ON AVAILABILITY
WAGYU IBERICO
It is a very valuable and rare meat. Very high quality meat with an important marbling and a unique aroma. It is a cross between native Spanish breeds (Morucha) with Japanese Wagyu beef.
Fiorentina
T-Bone
Ribeye
VACA VEJA RUBIA GALLEGA
GRASS FED - Meat among the finest in the world. Bred into the wild in Galicia up to 10 years. It's a picky meat with rich, savory flavor with powerful blue cheese and mushrooms notes around the edge. The aftertaste is spicy.
Fiorentina
T-Bone
Ribeye
BUEY GALLEGO
GRASS FED - It is the male of the Rubia Gallega with same characteristics. It has an even more accentuated marbling. Meat with a strong refined flavor suitable for demanding palates.
Fiorentina
T-Bone
BARBINA FRANCIACORTINA
"Scottona" aged between 15-20 months, thanks to a diet based on cereals and alfalfa, develops marbled, very tender meat, pink in color and with a very delicate taste.
Fiorentina
T-Bone
Ribeye
FRISONA MORENICA
Coming from the areas of the morainic hills, they are animals older than 24 months. The qualifying points of the meat, thanks to food quality, are light marbling, delicate flavor and tenderness.
Fiorentina
T-Bone
Ribeye
VACA HOLSTEIN E FRISONA
The Dark Red TAMACO Superior beef is bred in Germany and Denmark. Cows older than 6-7 years, have a meat with a thick layer of fat and marbling of very high value.
Fiorentina
T-Bone
Ribeye
BAIUVARI
GRASS FED - The German Simmenthal, "Pezzata Rossa" bred sustainable on meadows and pastures with attention to animal health and welfare.
Fiorentina
T-Bone
Ribeye
MORA BALTICO
They live in the pasture and are fed on grass, hay only during winter. Valuable meats with an excellent marbling possible thanks to the natural diet, typical of breeding into the wild. Origin Lithuania Estonia.
Fiorentina
T-Bone
Ribeye
SASHI FINLANDESE
Succulent meat with high level of fat infiltration. Its diet is exclusively grazing. Breed that in 2018 and 2019 won the Award for best meat in the world at the World Steak Challange. Origin Finland.
Fiorentina
T-Bone
Ribeye
HEREFORD CELTICA
GRASS FED - Originally from Herefordshire, it is one of the oldest breeds bred in the wild. The meat is distinguished by good marbling, the yellow fat is due to the grass, the basis of their diet.
Fiorentina
T-Bone
Ribeye
ANGUS
GRASS FED - The natural pastures and the climate of these areas are the perfect habitat that guarantees the livestock to live in a total harmony with the environment. The result is a meat of refined flavor with high nutritional value and certainty of origin and genuineness. Very softy, juicy and savory, the Black Angus meat is velvety, compact and with thin strands of fat which, once melted in cooking, release an intense aroma and enhance its softness. Origin Uruguay, Australia, USA, Ireland.
Fiorentina
T-Bone
Flank Steak
Cowboy
MARINHOA PORTOGHESE
GRASS FED - Marinhoa PDO meat comes from Averio and Coimbra. Extensive breeding, less productive but based on the quality of the final product. It has become a very high quality meat, juicy, tender and very tasty.
Fiorentina
T-Bone
Ribeye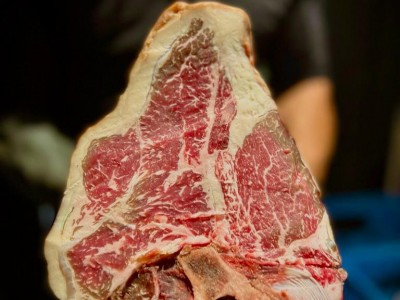 SIDE DISHES AND SALADS
PEPERONATA
Pan fried peppers with onions and tomatoes
INSALATA CAESAR
Salad, cherry tomatoes, crunchy bread croutons, Caesar sauce, grilled chicken breast and bacon
INSALATA NIZZARDA
Salads, tomato, potatoes, green beans, eggs, tuna fish, olives, capers, anchovies
INSALATA CAPRESE
Tomatoes, soft core buffalo mozzarella PDO from Campania, extra virgin olive oil, basil and oregano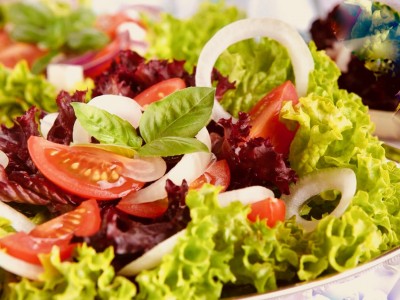 OUR SPECIAL APPETIZERS
ANELLI DI CIPOLLA
Fried onion rings
OLIVE ALL'ASCOLANA LEGGERMENTE PANATE E FRITTE
Jalapeños PICCANTI RIPIENI DI FORMAGGIO FUSO
Spicy Jalapeños filled with molten cheese

BOCCONCINI DI CAMEMBERT FRITTI
Fried morsels of Camembert
MIX DI TUTTI I FRITTI
Mixed fries : Onion rings, stuffed and fried olives, spicy Jalapeños filled with molten cheese, fried morsels of Camembert and chicken nuggets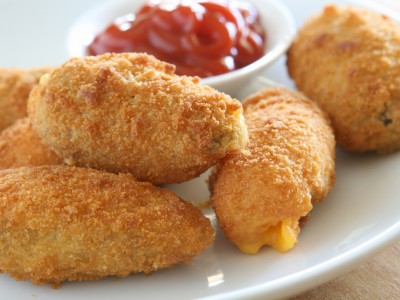 HAMBURGER
IL BISONTE SELVAGGIO
WILD BISON 100% italian origin with butter, Cheddar, sauted onions, Dijon mustard, BBQ sauce, pickled cucumbers
L'HAMBURGER CHE NON C'È
Grilled eggplants, sautéed escarole, tomoatoes confit, crispy potato chips and carrot mayonnaise
NUDO E CRUDO
Angus tenderloin, bacon chips, mayonnaise with mustard, toasted hazelnuts, corn salad, Maldon salt and extra virgin olive oil
GORDON'S BURGER
WAGYU meat, stewed white onions, Worcester sauce, Fontina, mayonnaise, Ketchup, salad, cucumbers, hot peppers, butter, salt and pepper
BACON
Beef, bacon, Cheddar, fried egg and BBQ sauce
SOUTH ITALY
Calf, fried eggplants, soft core buffalo mozzarella PDO from Campania, gratin tomatoes and basil pesto
TASTY
Beef, pork sausage with caramelized onions, buffalo stracciatella PDO from Campania, mayonnaise with capers, toasted hazelnuts and pistachios
SPICY
Pork sausage, red radicchio, sauted chicory, buffalo stracciatella, black pepper and butter
MR POLLY
Chicken breast ragout on Remoulade sauce with fresh corn salad and pickled cucumbers
REAL
Beef, buffalo stracciatella PDO from Campania, pâté of Taggiasca olives, roasted cherry tomatoes and caramelized onions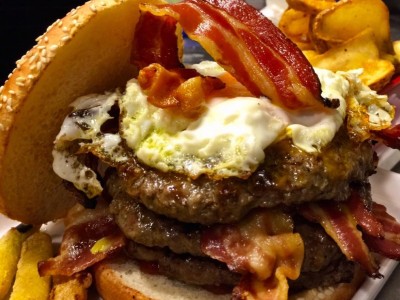 PINSA ROMANA - LIGHT, DIGESTIBLE AND FRAGRANT
LA PINSA DELLO CHEF
Mozzarella "fior di latte" (fdl), roasted cherry tomatoes smoked Provola, buffalo stracciatella PDO from Campania, Cantabrian anchovies, black olives, oregano, parsley and extra virgin olive oil
LA GOURMET CON PATANEGRA
Mozzarella fior di latte, wild mushrooms, soft core buffalo mozzarella PDO from Campania, 100% Iberian Patanegra ham, 36 months seasoning
LA PINSERITA
Mozzarella fior di latte, tomato fillets San Marzano, soft core buffalo mozzarella PDO from Campania and fresh basil
TRA IL BOSCO E IL PASCOLO
Wild mushrooms, mozzarella fior di latte, tomato fillets San Marzano, buffalo stracciatella PDO from Campania and fresh basil
DA NORD A SUD
Parma ham of artisanal production, mozzarella fior di latte, buffalo stracciatella PDO from Campania and chopped pistachios
LA JULIENNE
Smoked salmon, mozzarella fior di latte, zucchinis julienne, buffalo stracciatella PDO from Campania, pink pepper and extra virgin olive oil
DALL'ORTO
Grilled sweet peppers, egg plants and zucchini, spinach, mozzarella fior di latte, Grana Padano flakes, Fontina gratin
LA PARMIGIANA
Roasted cherry tomatoes, fried aubergines, smoked Provola cheese, Grana Padano cheese, buffalo stracciatella PDO from Campania, oregano, basil oil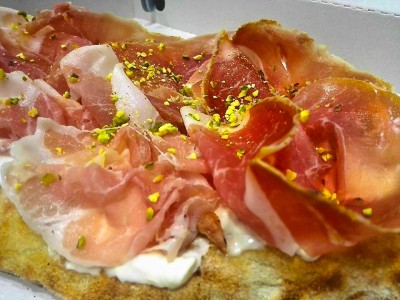 THERE'S ALWAYS A LITTLE SPACE FOR DESSERT! (all desserts are homemade)
Panna cotta (milk pudding)
Cheesecake
with Nutella and puffed rice
Il caffè del Vivi
with cold coffee cream, espresso, milk cream e whipped cream.
For the greedy ones even with Bayles
Sorbetto
made of fresh lemons
even with fruit vodka